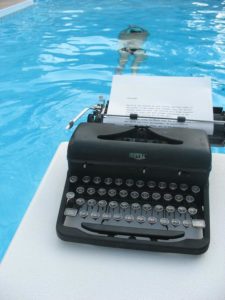 It's been a while since I posted here but I didn't want you guys to think I haven't been busy. Just the opposite, in fact, which is why I totally forgot to post to my blog. Sorry about that.
Anyway, on the writing side, I have a few things in the works. One is that I've outlined a new Streetlights Like Fireworks story and will start writing the actual book soon. As always, I look forward to hearing from Jack and Lauren again. It's funny because the other night, while thinking about the new book, I imagined Lauren delivering a snarky comment to Jack. It actually made me chuckle and I had to email it to myself so I didn't forget what she said (so, I guess that was Lauren's way of saying, "Hello? What are we waiting for here? Let's get moving!").
On another front, I've kind of gone down a rabbit hole and created a new series. I have two books drafted so far and I'm currently drafting the third. I've never worked this way before. Usually, I outline, draft and then edit (and edit a few more times) before publishing. This time, I thought I'd just keep plowing ahead, which is what I've done. What this means is I'll soon have three big messes to clean up as far as editing goes. As for the series, while it features some of the metaphysical aspects and themes I tend to be interested in (ghosts, psychics, the supernatural), this is not a young adult series and, compared to my others, it's quite a bit darker. To be honest, I haven't decided what I'm doing with it yet. My plan is to finish it and step back for a bit, then possibly publish it under a pen name since it doesn't really fit with my YA books. Maybe. Like I said, I'm not really sure. Anyway, I'll keep you posted on that in the future.
One last thing I thought I should share. I received a really nice note the other day from a reader who'd just finished reading the Streetlights books. As it turns out, she's a teacher in Alaska and some of her students chose Streetlights Like Fireworks for a book report project last year. I thought that was one of the coolest things ever and I appreciate her taking the time to let me know (thanks, Sarah). It's always exciting hearing from readers and occasionally I'll hear from some half a world away in places like Alaska, UK or the Netherlands. There's just something amazing about this to me and I found it really gratifying to learn that a group of students up in Alaska had actually not only heard about my books but had also chosen to work with one as a school project. Just really cool.
I hope you're all having a great summer. Needless to say, it's a bit warm here in Virginia but the upside is that sometimes I take my writing to the neighborhood pool. The downside is risking classic rock ear-worm since at our neighborhood pool, evidently, it's still 1984. So, between the pool and the trailer for Suicide Squad, I've had Bohemian Rhapsody playing in my head for like three weeks. Scaramouch, scaramouch will you do the fandango?